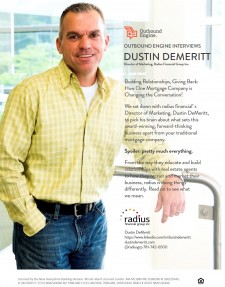 News
-
updated: Jul 20, 2016
Building Relationships, Giving Back: How One Mortgage Company Is Changing the Conversation. We sat down with radius financial's Director of Marketing Communications, Dustin DeMeritt, to pick his brain about what sets this award-winning, forward-thinking business apart from your traditional mortgage company. Spoiler: pretty much everything.
Building Relationships, Giving Back: How One Mortgage Company Is Changing the Conversation.
Yoga Wednesdays, community service projects and Cinco de Mayo celebrations aren't typically things that come to mind when thinking about the mortgage industry. But radius financial group is changing the game, and these are just a few of the innovative ideas that are part of that initiative.
We sat down with radius financial's Director of Marketing Communications, Dustin DeMeritt, to pick his brain about what sets this award-winning, forward-thinking business apart from your traditional mortgage company.
Spoiler: pretty much everything.
From the way they educate and build relationships with real estate agents to how they recruit and market their business, radius is doing things differently. Read on to see what we mean. In-House Marketing Team Wins Gold!
OutboundEngine: What sets radius apart from other mortgage lenders?
Dustin DeMeritt: A number of things. We're an independent mortgage bank, not a broker. That's a big deal. We're also Fannie Mae approved and we do in-house underwriting. With that, we've streamlined our processing — it's very goal oriented rather than deadline driven.
The other thing is that we're agent-centric, which is where OutboundEngine comes in. We use OutboundEngine to change the conversation with our referral partners. Our primary audience is referral sources and we work with their customers. A great example of this is real estate agents. Real estate agents have people who are buying homes and when they need financing, we're here to help.
Another thing that really separates us is our in-house marketing. We use platforms and partners like OutboundEngine, but it's all done here. We have 40-plus loan officers that we do individual marketing for.
And finally, I think the last thing that truly sets us apart is our philanthropic work. We have three different areas that we invest in: 1) Habitat for Humanity 2) Veterans Helping Veterans and 3) An organization called Opens Doors through the Mortgage Bankers Association. We work with Boston Children's Hospital to help pay for families with critically ill family members who can't afford to pay their mortgage or rent for three months. We fund that grant by donating $100 for every single loan that closes here at radius. This year we'll help over 2,500 families and we're really proud of that. Text "ODF Radius" to 20222 and donate $25.00 today.
Q: What's unique about the way radius views real estate agents?
A: In regard to real estate, we believe four things:
Real estate is a local business driven by individual agents and their sphere of influence.
We shoot for the stars and believe top agents are our best customers.
We also believe that our growth will come from serving our real estate partners with excellence.
And finally, we believe that real estate agents are in the market to stay.
Ten years ago they said computers were going to replace loan officers and real estate agents — we don't believe that to be true. We think it's always going to be a personal business where people want to engage with each other personally, see the homes, experience them and talk things through.
Q: How is that different from the traditional model and why is that better?
A: What truly distinguishes us from anyone else is the way that we are growing, nurturing and building relationships with Realtors. The experience is better for our customers and it's because of all those things that we're different from our competition.
Q: Tell me more about your relationship-building strategy.
A: Our primary charter is to help real estate agents and referral partners grow their business. With their success comes our success and we want to change the conversation with them. So we start very fundamentally asking things like, "What kind of business did you do last year?" and "What are your goals for this year?"
One of the fun things that comes out of that are our power-pedis, where we do a one-hour mani-pedi with a group of referrals. It's a captive audience! And they send in different topics they want us to talk about and we cover those things. It's a reason to get together and talk about how to grow our businesses collectively in a fun environment. Meet radius loan officers!
Q: If I stepped into the radius office, what would I see?
A: You would see big screens playing everything from fun pictures to "Why radius?" videos. The second thing you would probably do is meet our awesome receptionist Brandon. He's a great example of how everybody at radius owns marketing — you know, we can all do everything we do but if Brandon isn't at the front desk and greeting people, the buck stops there.
The next thing you'll see if you look off to the left is this huge, wide open communal space — it's our operations center and the nucleus of everything that happens. Hands down our operations team is the best in the business. The walls are bold and the colors are bright, like our logo. There are different neighborhoods built out with state-of-the-art technology and behind that is our commercial kitchen where we have a training room and host everything from yoga to team building.
We originate mortgages for a living and there's not a lot of sexy with mortgages. We work really hard and we try to play hard too whenever we have a chance to take breaks — and that's a big part of retaining the best talent.
Q: Speaking of talent, where do you recruit loan officers from?
A: We believe the most powerful way to do it is organically. Part of our next-generation program recruits people with zero mortgage experience who know little about the industry. We have a chance to teach them about the industry, what's going on in Washington, what happened over the last 10 years, all the way down to the very basics of what it takes to run our business day to day.
And the second way we recruit is through engaging with different people, sharing our story and finding out if radius could be a fit for them.
Q: What are you looking for in your reps?
A: The reason we go after junior military reserve very heavily is because of the character of the person. They have all the right characteristics. They understand what it means to be cross-trained and how important that is.
When we put together loans, we need to make sure that everyone on the floor has the ability to cross-train so we can continue to close loans and get things done. Character is way, way up there. And you've got to be pretty smart. To pass the mortgage licensing test these days is not an easy task — you've got to have some wits about you to be in this business.
Q: How is radius' training for loan officers different from other companies?
A: We grow them organically and teach them from the ground up. We put them through what we call "Live Factory," which means they are shadowing and mentored by people from every department.
(end of interview)
Sound like the kind of company you'd want to work with or for? We agree.
And to drive it all home, radius joined the ranks of organizations like the Boy Scouts of America and Google as the first independent mortgage bank to win or even be nominated for a Rosoff Award. According to The Ad Club, "Over the past 19 years, the Rosoff Awards has become one of New England's premier diversity celebrations, honoring companies with meaningful diversity, mentoring and inclusion programs and individuals with a personal commitment to this important cause."
Needless to say, we're proud to partner with a company like radius. DeMeritt agrees, "In a highly regulated compliance marketplace, we can exceed expectations because of your platform, and that's a big deal."
With the social world we live in today, we both understand that we have to stop interrupting what people love with advertisements and become what they love through thoughtful content. In an industry like mortgage, that can be tricky — but it's important all the same. Meet Dustin!
Thank you radius. Keep Making Mortgages Better!
Erin Myers is the Content Marketing Leader at OutboundEngine. She's passionate about tracking the latest trends in social media and marketing to help business owners build relationships and reach new customers online.
Licensed by the New Hampshire Banking Division. Rhode Island Licensed Lender. MA ML1846 ME SLM6596 RI 20031544LL FL MLD309 CT 17213 NMLS#1846 NH 7986-MB 17213, MLD309, 7986-MB, 20031544LL NMLS # 20147 NMLS #1846
Share: